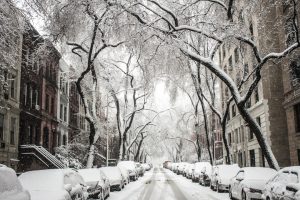 Some are dusting off their snow gear and others are ready for hibernation- but like it or not, winter is right around the corner! Here are five tips to help you be a better neighbor this winter season:
Remember to shovel your sidewalks 

Sidewalks can be more dangerous than the streets since they are not usually treated with salt and sand. In some neighborhoods the associations are responsible for providing this service. In others, it falls on the homeowner. If you know you have an elderly couple near you or maybe a new mom with her newborn, it always feels good to help out a neighbor.

Check up on your neighbors.

Make sure residents have rides to doctors' appointments, the grocery store, etc. Some are terrified of driving in winter conditions. Others, (like me who's from Michigan and drives in snow for the better part of a year) are seasoned pros! Learn who those neighbors are so maybe when you are at the store you can help pick up a couple of things or get them where they need to go.

Park your vehicle in its assigned spot.

 Too often, residents who live at the top of a hill, in a dense neighborhood, or in a cul de sac park their vehicles at the end of a street or at the bottom of the hill. Often, these impromptu parking arrangements make it impossible for snow removal equipment to enter an area.

Clear snow from fire hydrants.

For being surrounded with frozen water… winter is one of the most common times a year for fires!! With holiday decorations, pine scented candles and lots of cooking, it is important to remember that fire hydrants need to have easy access for any emergency.

Remember to drive with caution in bad weather.

Making quick stops or sudden turns can cause accidents when conditions are icy. Be aware of snow conditions this season and plan out your movements!